How To Use Hand And Power Tools Safely
Views: 205 Author: Site Editor Publish Time: 2020-07-21 Origin: Site Inquire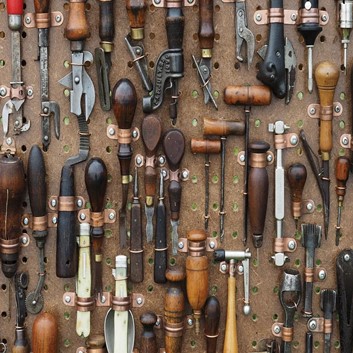 In order to improve the efficiency of completing the task, there are a variety of hand operated tools or electric tools nowadays. Although they bring us convenience, they also bring us danger if they are not used properly. When we are using hand or power tools, it's significant to abide by proper work habits.
1. Hand Tools
· If used as a wera screwdriver set, the top of the chisel may snap and hit yourself or the people next you.
· If the wooden handle on a tool, such as a hammer or axe, becomes loose, shatters or breaks, the head of the tool may fly off and strike you or other people.
· If the wrench's jaws spring up, it is possible for the wrench to slip during use.
· If the head of an impact tool (such as a chisel, wedge, or eccentric pin) appears suddenly, the head may break on impact, sending sharp fragments flying towards you or other people next you.
(1) Personal Protective Equipment
When we use personal protective equipment, we choose according to the hazard of the tools we use. The most basic, we should wear safety glasses or goggles to protect our eyes. If the work done causes debris to fly, like hitting the nail with a hammer, you can use a full cover over the goggles.
In addition to goggles, it is also important to protect your hands. Anti-cut gloves can help prevent injuries from the wrong blade placement. Wearing standard cotton or leather gloves can help prevent chafing caused by wood debris. Wear gel or rubber gloves to reduce vibration during long hours of hammering.
If your job involves using your feet, safety shoes or boots are helpful. Safety shoes not only protect your feet from falling tools, but also prevent the sole from punctured and are electrically insulated.
(2) Correct Work Habits
Different tools have different habits. When you are using wrenches, you should check the wrench regularly for damage, such as cracking, serious or deformation. Do not place the wrench in an environment that may weaken its hardness. When using pliers, do not increase the handle length of the pliers to gain more leverage. Instead, choose a larger size of pliers. Stop using any hammer that shows signs of excessive wear, cracking, mushrooming or detritus. Do not use a screwdriver as a lever, chisel, punch, blender or scraper. Whether it's a flat head screwdriver, or a phillips screwdriver, or a pentalobe screwdriver, or a tri wing screwdriver.
2. Power Tools
(1) Personal Protective Equipment
Current electricity construction has many, including battery operated screwdrivers, battery operated jack hammer, battery operated air hammer, battery operated chisel, etc. Power tools are more dangerous than hand tools because the operating speed of power tools and the possibility of the user coming into contact with the power source (electric, pneumatic, hydraulic, etc.). Like hand tools, power tools require basic tools such as goggles, a full cover, protective gloves, and safety shoes. On top of that, you may also need earplugs or earmuffs to protect your ears from prolonged noise. If you perform strong grinding operations, it is necessary to use particulate respirators. Meanwhile, clothing is also important when using power tools. Don't wear loose or torn clothes. Tie up your hair, please!
(2) Correct Work Habits
Before using any power tool, be sure to read and follow all safety precautions covered in the tool user manual.
· Do not pull the wire to separate it from the socket.
· Make sure the power is disconnected when maintaining or cleaning tools and changing blades, drills, etc.
· When operating power tools, be sure to stand on your feet and keep a good balance.
· Avoid accidental starting and be careful not to touch the switch when carrying it.